You joined Fiverr obviously to get clients and make some earnings for yourself. But unfortunately, after you created your gig and you are sure that your gig is explaining everything you provide but still not getting any orders. Why would that be? Sometimes you see some impressions, and clicks as well but not orders or even worse not getting any impressions at all. Below you can see that I had impressions but I only had one order, why would that be, what I'm doing wrong? 

In this article, we will be covering how to get your first order on Fiverr with some basic tips and tricks but first, you should make sure that you are providing a great service to the people.
How to get your first order on Fiverr?
There would be several mistakes you are doing that's why you are not getting any orders. So let's go through them one by one.
Optimizing the gig
The first step to get your first order on Fiverr will be of course to make sure that you are using good and low competitive keywords, describing your services well, and using an eye-catching thumbnail. Below will be the steps to improve your Fiverr gig.
Keywords selection
If you are getting impressions and clicks then you can skip this part. But if not, then you may have your gig created but I can make sure that you have done something wrong with the content. The best way to make sure that you are using the best content for your gig is to do some search on your keywords. If you are providing web development or let's say Fiverr gig impressions then you must search for "Fiverr impressions" on Fiverr then when you see the results page then you will notice that this has recommended keywords, now this is very useful for us as we get more keywords about our gig/niche.

Now you need to go through each and every keyword and get gather some keywords where the competition is low which you can know by the number of search results. When you have them all, make sure to use these keywords in your articles. Actually, use a maximum number of keywords in your gig content so it appears on all keywords.
The SEO title
I see some people ignore the SEO title in your gig which is extremely important. That is the main thing to make your gig rank on the search results. So, make sure to use an SEO title that contains the keywords as well as defines the service well.
Thumbnail
If you are getting impressions but not clicks then there is a 90% chance that you are using the wrong thumbnail. Your thumbnail must contain a color that catches the eye such as red. I recommend you use red as your primary color in your gig thumbnail. And make sure that you have an attractive thumbnail and if possible a small showcase of your work.
Cold Emailing
Now that you have your Fiverr gig optimized, you are ready to get started working on the marketing of your gig so that you can get people to know that you are providing this service. The first thing that comes to my mind is cold emailing when it comes to marketing. Cold emailing means that you send emails to 1000s of people every day who maybe are interested in your services. 
Cold emailing can be very useful, only if you use it correctly. Follow the steps below to get started with cold emailing for your Fiverr gig.
The first thing you would do in cold emailing is to get a professional email address. You can get one from the g-suite provided by Google. Having a professional email address such as [email protected] will make more impressions and chances to get an order.
Email Template
Now that you have the email ready, you would require to create an email template. Look at the picture below, you can see a good template example.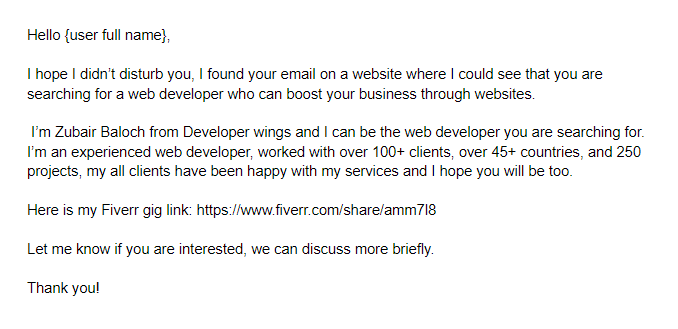 Try to make an email template that your targets just love, and purchase from you.
Keep following this trick every day, there are people who may be searching for your service and after they see your email then there is a high chance that they will come to you
Quora & Social Media Platforms To Get First Fiverr Order
Social Media
This method is so obvious but we can't neglect it. You must share your gig with all these platforms in the list:
There are dedicated groups and pages where people are searching for your services, you just have to share your link to those groups and you will start seeing instant results. Search for people who are searching for you. Use Linkedin to reach people who may need a website and then showcase your portfolio to them and make them an offer.
Quora
Quora is the key if you want your gig to be reached many people, even I will use quora to increase this article's impressions as well. Create a profile on Quora and try to describe yourself in your bio and add a good-looking profile picture. After you have set up your account, now search for questions related to your service if you are providing "Fiverr gig Impressions" on Fiverr then you would most probably search for How to get Fiverr gig impressions or How to get your first order on Fiverr on quora, and then you will see a bunch of questions related that, you just have to answer their questions and also paste your service link and say "Hey, I provide this service as well". Make sure that your answer is complete without even pasting the link because quora won't allow spamming.
I highly recommend you use quora, you will see the results on the first day.
Now the above methods were free of cost, but if you want to see results asap and you want to invest not only time but money as well then below are some points that I also use for my Fiverr gigs.
Investment
Fiverr doesn't allow you to advertise your gig on google ads, so be aware to not create google ads. But Fiverr allows any other ad platforms.
Facebook Ad
Facebook again is a very powerful platform to get your service known by the people. I recommend you create an ad on Facebook and Instagram so that people can reach you. But make sure to use the best content for your ad, people hate ads with no point or are not fully described. Know who is your target and their age, gender, or country. Create a video ad, and hire a professional to do that. And search for the best keywords for your ad, after you have collected your all information and you see you are ready to start it, then create your ad and let the magic happens to your gig!
Purchase Reviews
Your clients will only trust you if you have your reviews on your account, of course, people won't take the risk to hand over the job to a person who has 0 reviews hence they don't know how well the work will be done. And for that case you must have at least 1-2 reviews on your gig or account at least, clients will believe you if you have positive reviews.
Now Fiverr officially is against Fake Reviews but unfortunately, that is a must thing in this competitive era. Reach out to a person through Facebook groups and ask for reviews, and they will charge you a very little amount, like if you are purchasing a $5 review then they will only cost you $7.5 or something, that is because Fiverr takes 20% from their end as well, so they have to cover that as well. Make sure that you are asking them to start a conversation on Fiverr and that you talk a little bit so that it doesn't look like a fake one. 
Purchase reviews every time you see your profile is going downfall. Many successful freelancers usually do. Whenever they see my profile going down, they purchase about 5-10 reviews but in fact, they are only investing a very less amount of it because 60% of the investment will come back to their Fiverr wallet. They are only investing 40% of the money logically. And if they get even one good project from these reviews then it will cover all these investments. 
These are what I got for this article, I hope it will help you to get your account for your first order. I will suggest again to at least invest in the reviews because people believe what they see. 
Bonus Tip
After you get your first order on Fiverr, and you keep your communication and services extremely good then there is a high chance that the client will return or suggest you to their friends. Sometimes if you get many returned clients then Fiverr awards you with a badge on your gig or a tag such as "Fiverr Recommended". This will really help your gig to be more trusted by the people.